Desire Area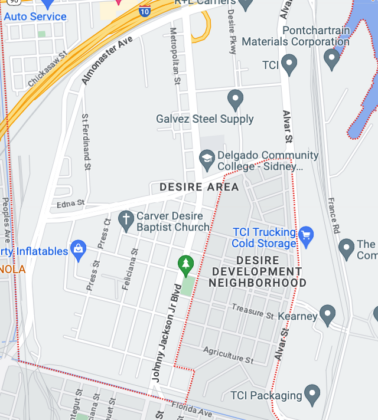 The Desire Area neighborhood is a historic district located in the Eastern part of New Orleans, Louisiana. It is bounded by the Industrial Canal to the north, Florida Boulevard to the east, Almonaster Avenue to the south, and North Galvez Street to the west. The neighborhood was originally developed in the 1920s as a residential area for African Americans, and it quickly became a vibrant and thriving community.
One of the most notable features of the Desire neighborhood is the Desire Streetcar Line, which was immortalized in the famous Tennessee Williams play "A Streetcar Named Desire." The streetcar line was in operation from 1920 to 1948, and it played a significant role in the development of the neighborhood. The line was eventually replaced by buses, but the streetcar tracks are still visible in some parts of the neighborhood.
The Desire neighborhood is also home to several historic landmarks, including the St. Roch Market, which was built in 1875 and served as a public market for many years. The market was renovated in 2015 and now houses a variety of food vendors and shops. Another notable landmark is the St. Roch Cemetery, which was established in 1874 and is the final resting place of many prominent New Orleans residents.
Despite its rich history and cultural significance, the Desire neighborhood has faced many challenges over the years. In the aftermath of Hurricane Katrina in 2005, the neighborhood was severely impacted by flooding, and many residents were forced to evacuate their homes. The neighborhood has since undergone a slow but steady recovery, with many residents returning and rebuilding their homes.
Today, the Desire neighborhood is a diverse and vibrant community that is home to a mix of longtime residents and newcomers. The neighborhood is known for its strong sense of community and its many cultural events and festivals, including the annual St. Roch Festival and the Desire Streetcar Festival.
In recent years, the Desire neighborhood has also become a hub for economic development and revitalization. The city of New Orleans has invested in several major infrastructure projects in the area, including the construction of a new hospital and the redevelopment of the St. Roch Market. These projects have helped to create new jobs and opportunities for residents, and they have helped to spur new investment and development in the neighborhood.
Overall, the Desire neighborhood is a unique and vibrant community that is rich in history and culture. Despite the challenges it has faced over the years, the neighborhood has remained resilient and strong, and it continues to be an important part of the fabric of New Orleans.  West End