Broadmoor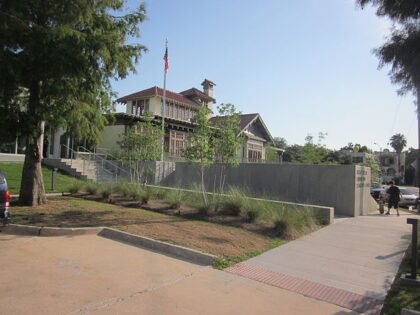 Broadmoor is a historic neighborhood located in the Uptown area of New Orleans, Louisiana. The neighborhood is bounded by Toledano Street to the north, Washington Avenue to the south, South Claiborne Avenue to the east, and Jefferson Avenue to the west. Broadmoor is known for its beautiful homes, tree-lined streets, and strong sense of community.
Broadmoor was originally developed in the early 20th century as a streetcar suburb. The neighborhood's architecture is a mix of styles, including Craftsman, Colonial Revival, and Art Deco. Many of the homes in Broadmoor were built in the 1920s and 1930s and feature large front porches, stained glass windows, and intricate woodwork.
In 2005, Broadmoor was severely impacted by Hurricane Katrina. The neighborhood experienced significant flooding, and many homes were damaged or destroyed. However, the community came together to rebuild and revitalize the neighborhood. The Broadmoor Improvement Association (BIA) was formed to coordinate recovery efforts and advocate for the neighborhood's needs. The BIA worked with local and national organizations to secure funding for rebuilding and restoration projects, and today, Broadmoor is a thriving community once again.
One of the most notable landmarks in Broadmoor is the Rosa F. Keller Library and Community Center. The library was built in 2012 and features a LEED-certified building design, a computer lab, meeting rooms, and a community garden. The library is a hub of activity in the neighborhood, hosting events and programs for residents of all ages.
Broadmoor is also home to several parks and green spaces. Wisner Playground is a popular spot for families, with a playground, basketball courts, and a swimming pool. The park also hosts community events throughout the year, including movie nights and festivals. The Broadmoor Arts and Wellness Center is another community resource, offering classes in yoga, dance, and other fitness activities.
In recent years, Broadmoor has become a popular destination for young professionals and families. The neighborhood's proximity to downtown New Orleans and its charming architecture make it an attractive place to live. The community is also known for its strong sense of civic engagement, with residents actively involved in local government and community organizations.
Overall, Broadmoor is a vibrant and welcoming neighborhood with a rich history and a bright future. Its beautiful homes, community resources, and strong sense of community make it a great place to call home in New Orleans. Another fantastic neighborhood in the area is Gentilly.